BL8087
PMU with a Synchronous 1A Buck and a CMOS 500mA LDO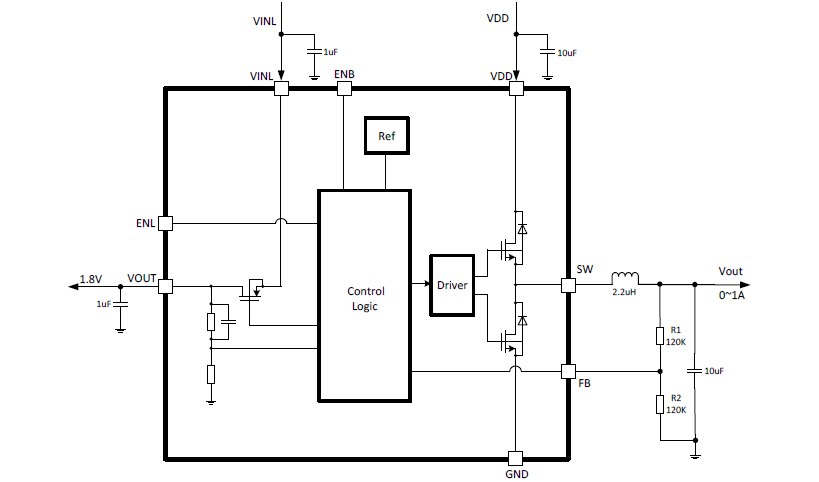 Advantage
High Efficiency : Up to 97%
Capable of Delivering 1A
1.5MHz Switching Frequency
No External Schottky Diode Needed
Low dropout 100% Duty operation
Internal Compensation and Soft-Start
Current Mode control
0.6V Reference for Low Output voltages
Logic Control Shutdown (IQ<1uA)
Thermal shutdown, UVLO and OVP
LDO
Max output current is 0.5A
Input voltage range: 2 – 6V
Output voltage range: 1.2V~4.5V (customized on command every 0.1V step)
Low power consumption: 40uA (Typ.)
Low output noise (47uVRMS)
Shutdown mode: 0.1uA
Low dropout voltage:
800mV@IOUT=500mA, VOUT=1.8V
High PSRR: 65dB@1KHz (Typ.)
Low temperature coefficient: ±100ppm/C
Excellent line regulation: 0.05%/V
Highly accurate: ±2%
Output current limit
Fold-back short circuit current
Introduction
The BL8087 is a power management unit (PMU), with 1 synchronous Buck and 1 CMOS low-dropout regulators that delivers a maximum current of 1A for Buck's output and a maximum current of 0.5A for LDO's output.
The synchronous buck is a high-efficiency, DC-to-DC step-down switching regulator, capable of delivering up to 1A of output current. The device operates from an input voltage range of 2.6V to 6V and provides an output voltage from 0.6V to VDD, making the buck ideal for low voltage power conversions. Running at a fixed frequency of 1.5MHz allows the use of small external components, such as ceramic input and output caps, as well as small inductors, while still providing low output ripples. This low noise output along with its excellent efficiency achieved by the internal synchronous rectifier, making the buck an ideal green replacement for large power consuming linear regulator. Internal soft-start control circuitry reduces inrush current. Short-circuit and thermal-overload protection improves design reliability.
The LDO is a low-dropout regulator that delivers a maximum current of 0.5A output. Typical dropout voltage at 0.5A load current is 0.8V. It has excellent load and line transient response and good temperature characteristics, which can assure the stability of chip and power system. The output accuracy is set within 2% by trimming.
Typical LDO output voltage: VOUT=1.8V. Other fixed voltage can be provided in the range of 1.2V~4.5V every 0.1V step. It also can be customized on command. LDO can also work under a wide input voltage ranging from 2V to 6V. They can provide foldback short-circuit protection and output current limit function.
BL8087 is available in lead (Pb)-free DFN2X2-8 (with exposed pad for heat dissipation) package.
Sample Apply